Safeguard Your Identity with Shredding Services
08/15/2023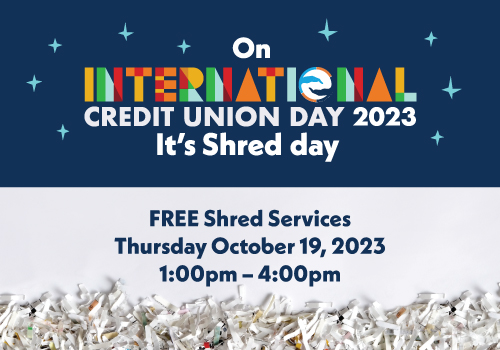 Save The Date! International Credit Union Day / Free Shred Event
October 19, 2023 – 1:00PM – 4:00PM
In a world where technology has made information more accessible than ever, protecting your personal identity has become a paramount concern. A recent incident at a Cooperative Center is a clear indication that our sensitive information can easily fall into the wrong hands, leading to financial fraud and identity theft.
In the credit union's case, our encounter with a clever imposter vividly underscored how fraudsters can manipulate personal information; the suspect exploited discarded documents to fabricate new identities, defrauding at least one financial institution. Fortunately, the check hold placed on the new "member's" account prevented any such loss here. Identity theft is a growing menace that can lead to drained bank accounts, ruined credit scores, and emotional distress. Taking proactive steps to thwart these criminals is crucial.
One of the most effective defenses against identity theft is shredding. Properly disposing of documents containing sensitive information can significantly minimize the risk of unauthorized access. By shredding old bank statements, credit card offers, pay stubs, and other paperwork that includes personal identifiers, you make it harder for criminals to piece together your details.
To celebrate International Credit Union Day on October 19th, Cooperative Center is once again hosting free shred services at locations in both Berkeley and Martinez.
Details of the FREE Shred Services, Thursday October 19, 2023 1:00pm – 4:00pm
Berkeley:
Berkeley Bowl West
920 Heinz Ave
Berkeley, CA 94710
Truck will be parked in the street on the curb facing the store entrance.
Martinez:
Martinez Municipal Parking Lot 4
Truck will be located towards the rear of the parking lot facing the Contra Costa Community College District on Ferry between Marina Vista and Escobar
This cautionary tale of Cooperative Center's encounter with an identity thief serves as a wakeup call for us all. In an age where personal data can be exploited with devastating consequences, shredding documents has emerged as a simple yet powerful tool to protect your identity. As we approach International Credit Union Day, make a commitment to your privacy and security by taking advantage of the free shred services offered by your credit union.
View all posts