Making a Big Change to Better Serve Members
11/12/2020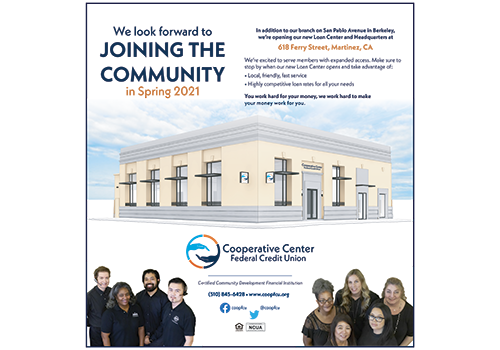 In 2016 the Cooperative Center FCU Board of Directors and Senior Management found themselves regularly discussing three issues; how to affect meaningful change in the ever-growing affordable housing crisis, how to address the gentrification slowly impacting the residents of South Berkeley, and the most prudent and effective ways to strengthen the capital position of the credit union.
Out of those discussions, the decision was made to pursue the sale of the Ashby Avenue location. An RFP was issued for Non-Profit developers which culminated in December 2019, when the Ashby Avenue location was sold to RCD, an affordable housing developer, allowing the credit union Board and Management to accomplish all three of their stated goals. The new Maudelle Miller Shirek Community project, slated to begin construction in 2021, will create 86 units of 100% affordable housing.
While there was a priority placed on maintaining a presence in South Berkeley, an analysis of member migration patterns showed more and more of the Credit Union's members were moving further north along Interstate 80 and east along Highway 4. Cooperative Center began searching for a location in central Contra Costa County with the goal of increasing accessibility by relocating its Loan Center and Headquarters. More than 20 properties were considered, according to President and CEO Fadhila Holman. The credit union team invested considerable time weighing the best fit for current and future members and completing the due diligence necessary to make its decision. Ultimately, the credit union purchased the former Bank of Martinez building in downtown Martinez. The building, which had been vacant for a few years, is being brought back to life as the new home for Cooperative Center's Loan Center and Headquarters.
"The Martinez property offered a good midway point to establish our centralized lending center and relocate our headquarters," Holman says. "Like Berkeley, Martinez has a rich history of community engagement and support. We believe this new location fits well with the credit union's equally rich tradition of providing fair and affordable access to financial and banking services, as well as our ongoing commitment to honoring our Community Development Credit Union designation."
Holman's own roots run deep in Martinez, including the fact that the city of Martinez was named after her great, great, great grandfather. And while this move does represent a homecoming of a sorts, Holman sees the location as a central hub for members living throughout Contra Costa and Solano counties. Cooperative Center FCU expects to complete renovations and begin occupying the building by the Spring of 2021.
Members living and working in Berkeley and the surrounding area will continue to have convenient access to the credit union at the new branch location planned to open January 2021, at 3015 San Pablo Avenue.
Visit www.coopfcu.org to learn more about the timelines for the opening of the new Berkeley Branch and the new Loan Center at 618 Ferry Street in Martinez.
About Cooperative Center FCU: Chartered in April 1942, the credit union has approximately 9000 members. Certified as a Community Development Financial Institution and designated as a Minority Depository Institution. For additional information on the credit union's history and commitment to social and economic justice initiatives, please see the About Us section on www.coopfcu.org
View all posts